the Happy Family at Home
The importance of family communication and our duty to promote Orderliness that should be taught at home.

the Family at Home can be forever

"STRONG FAMILIES ARE A TASTE OF HEAVEN ON EARTH."
We are to raise and belong to a loving family to enjoy God's choicest blessing.
"Think of a plan having a time of 30 minutes with your family"
We all know that our families are worth far more than thirty minutes of our time; yet often we let a day, a week, or a month go by without sharing any real time with those we love the most. Would you trade thirty minutes of your time for an idea?
A family idea?
We belong to The Church of Jesus Christ of Latter-day Saints and would like to share with you and your family a pleasant, meaningful activity that is being conducted with gratifying results in hundreds of thousands of homes thoughout the world. It is called the
family home evening
, and is designed to bring added love, understanding, communication, and fun to all the members of your family. No other success is as important as success in the home.
The family is the basic unit of society
, and no other institution can take its place nor fulfill its essential functions. We all know that our lives outside the home are richer, more productive, and more satisfying when our lives inside the home are united in
family love and solidarity
. The family home evening is devoted to things that members of your family enjoy doing together , and it includes a learning activity . You'll find that family home evening, with father directing and
mother
at his side , will increase the unity and love among all the members of your family. Your interest is appreciated, and we look forward to demonstrating a family home evening in your home under your direction. We plan to be prompt and take only the time alloted.
Questions, please do not hesitate to e-mail me frame45_sr@yahoo.com so that I can refer you to my friends near your address who will demonstrate the "Family Home Evening Program."
"First Things First""The Work Goes On"The Classroom Called Home
Perhaps most significant of all classrooms is the classroom of the home. It is in the home that we form our attitudes, our deeply held beliefs. It is in the home that hope is fostered or destroyed. Our homes are the laboratories of our lives. What we do there determines the course of our lives when we leave home. Dr. Stuart E. Rosenberg wrote in his book The Road to Confidence, "Despite all new inventions and modern designs, fads and fetishes, no one has yet invented, or will ever invent, a satisfying substitute for one's own family."
A happy home is but an earlier heaven. President George Albert Smith asked, "[Do] we want our homes to be happy[?] If we do, let them be the abiding place of prayer, thanksgiving and gratitude."
The Importance of Learning

"It is impossible for a man to be save in ignorance"

"The Lord hates inexcusable ignorance concerning the life-giving principles of the gospel, which, from time to time, since the beginning, he has declared to a perverse people through his chosen prophets, that all who would repent and receive the truth might be instructed in all things which are essential to their education in heavenly things." The Lord is greatly pleased with His children when they devote their time and energies in study and reflection, with the desire to gain a perfect knowledge of these great principles and commandments, for without a knowledge of them, and obedience to them, we cannot be saved. "The promise has been made to all those who will receive the light of truth and through their research and obedience endeavor to acquaint themselves with the gospel, that they shall receive line upon line, precept by precept, here a little and there a little, until the fulness of truth shall be their portion; even the hidden mysteries of the kingdom shall be made known unto them; 'For every one that asketh receiveth; and he that seeketh findeth; and to him that knocketh it shall be opened. 'All these are heirs of salvation, and they be crowned with glory, immortality, and eternal life, as sons and daughters of God, with an exaltation in his celestial kingdom."


(Joseph Fielding Smith, _Doctrine of Salvation_1:303)
Joseph Fielding Smith on the Importance of Learning
Gems from the Teachings of Church Leaders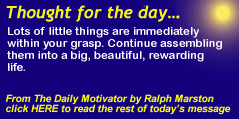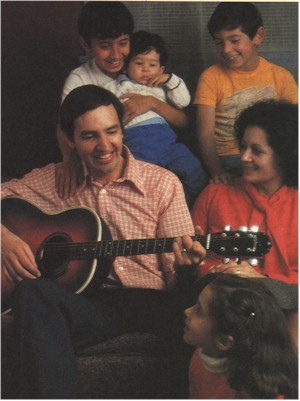 Monday, the 18th of November in the year 2019, at 12:25:29am






XE.com Personal Currency Assistant


The Family at Home Free Web Based E-mail box can be found at the bottom of this page.